Aegis Mini Kit
The Geekvape Aegis Mini vape kit is a smaller version of the original Aegis Kit. Powered by a built-in 2200mAh battery, it's capable of an 80W maximum output with a range of output modes allowing you to customise the Aegis' performance. The Cerberus Vape Tank that comes with the kit has been designed for sub ohm vaping, featuring top filling and adjustable airflow.
Hardwearing and stylish, the Aegis features a rubber finish and a genuine leather inlay for improved grip. Due to its unique construction, it is dust, water and shock resistant; while still remaining very lightweight. The 0.91 Inch colour screen clearly displays battery life and output modes, with an easy to navigate menu system.
The advanced AS-80 chipset creates not only a fast ramp up, but it also gives you access to a range of customisable output modes. These modes include Variable Wattage, Temperature Control, Bypass and Variable Power Curve.
Variable Wattage Mode allows you to directly increase and decrease the power output of the Aegis, between 5W and 80W. This is more than enough power to support the Cerberus tank, it also means you can use a range of other tanks and rebuildable atomisers with the device.
Temperature Control Mode lets you programme a wattage output and a max temperature your coil can reach before the device will stop firing. When used properly you can stop your coils from overheating and delivering a dry hit, you can also programme either a long cool vape or a short powerful one.
Variable Power Curve (VPC) works similarly to TC Mode, you can set a series of wattages that the Aegis will fire at sequentially. Again this lets you programme a vape pattern that's personal to you, whether that's a short powerful inhale or a longer smoother hit.
Bypass Mode lets the device act similarly to a mechanical device. When fired the device will pull the maximum amps from the batteries and use that to heat the coils. We recommend this mode to advanced users only who have a thorough knowledge of Ohm's law in relation to vaping.
The Cerberus tank features a 2ml capacity and can be used with a range of high VG eliquids. Refilling the tank is a clean and simple job thanks to the threaded top fill cap, which unscrews to reveal two generously sized juice ports.
The Cerberus has been designed to offer a direct to lung vape, helping you produce large clouds as well as delivering impressive flavour. The inhale can be configured by using the dual adjustable airflow at the bottom of the tank, for either a breezy inhale or a more restricted one.
The Geekvape Super Mesh Coils that the Cerberus comes prefitted with feature a 0.3 Ohm resistance for high wattage vaping. Each features a special mesh coil design, the benefit of the mesh is that it offers a larger surface area compared to normal coils, allowing for a larger amount of eliquid to be heated for a better flavour.
The Geekvape Aegis Mini Kit combines advanced technology with a durable exterior, for a lightweight and practical device, whilst the Cerebus offers both cloud and flavour production.
Contains:
1 x Geekvape Aegis 80W Vape Mod
1 x Geekvape Cerberus 2ml Sub Ohm Tank
2 x Geekvape Supermesh 0.3 Ohm Coils (one pre-installed)
1 x USB Charging Lead
1 x User Manual
1 x Spares Kit
Aegis Mini Features:
80W max output
2200mAh battery
Water, shock and dust resistant
AS-80 Chipset
Variable Wattage Mode
Temperature Control Mode
Bypass Mode
Variable Power Curve Mode
Cerebus Tank Features:
2ml capacity
Top filling
Dual adjustable airflow
Direct to lung inhale
Compatible with high VG eliquids
0.3 Ohm mesh coils
Important information about sub ohm vaping:
This device is intended for sub ohm vaping. Sub ohm vape kits require a greater amount of knowledge and experience to use safely. They use specially designed coils that register below 1.0 Ohm resistance, for use at higher wattages. These kits will also feature advanced modes that require a knowledge of vaping to be used correctly.
We recommend you do not use an e-liquid that has higher than a 6mg nicotine strength, this will be too harsh on the throat. Sub ohm vaping produces more vapour and because of this, an increased throat hit. High VG e-liquids will allow you to experience greater vapour production when used with this kit.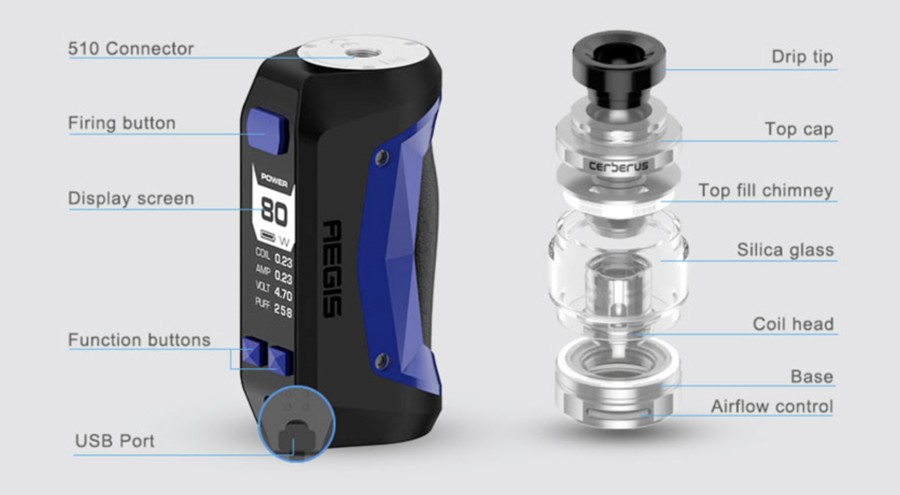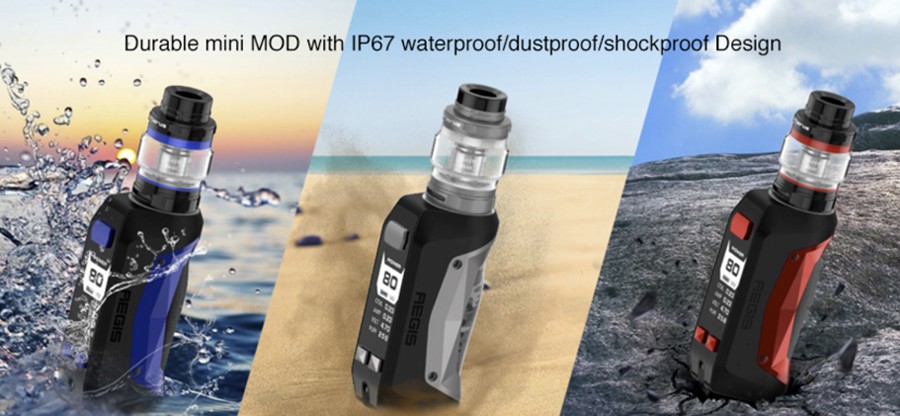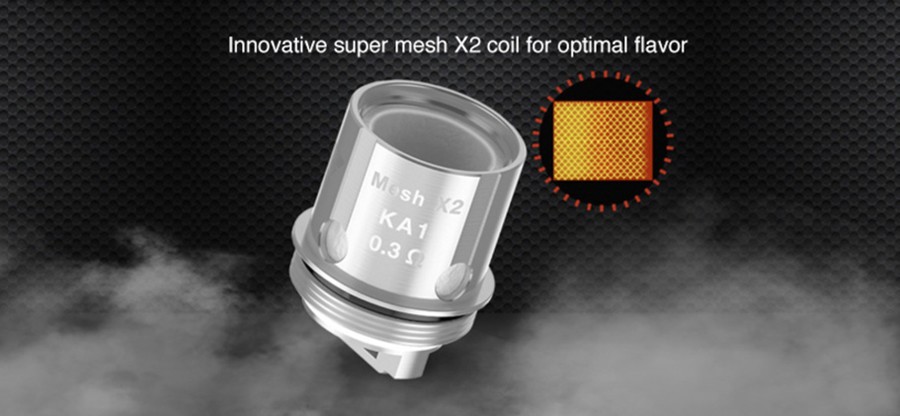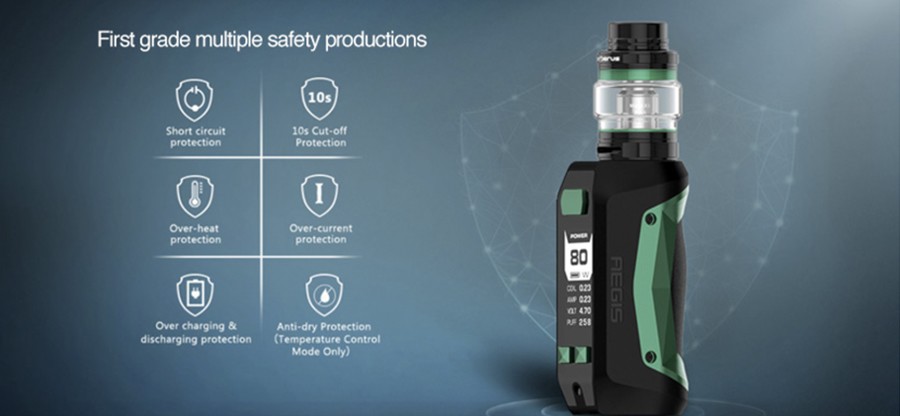 Additional information
| | |
| --- | --- |
| Colour | Red & Black, Camo & Gunmetal, Stealth Black |